Is .Com still king in China?
Views:2847 Time:2018-04-27 16:27:00 Author: NiceNIC.NET

Kassey Lee analyzes new data about domain name and website usage in China.
Is .com still king in China? How important is .cn? Is there any other extension worth watching in China? These are questions many domain investors may have in their minds. To answer these questions, I turn to the annual publication "China Statistical Report on Internet Development," the latest of which was released last month.
The big picture first. China now has a whopping 772 million internet users but the figure represents only 56% of the entire Chinese population, indicating a lot of room for further growth. More internet users will drive more demand for products and services, which in turn will require more websites.
You can also look at it from the number of websites developed in China. The number has grown to 5.3 million but is still very small when compared with the approximately 90 million companies reported by the National Bureau of Statistics of China. This large gap may be due to companies not being online yet or running their business on ecommerce platforms such as JD.com. Eventually, these companies will want to move to their own website to gain complete control of their business. Therefore, we can expect real demand for domains to continue for a long time in China.
Now let's look at the domain market. The chart below shows domains registered in China since 2005. The total number of domains as of December 2017 was 38 million.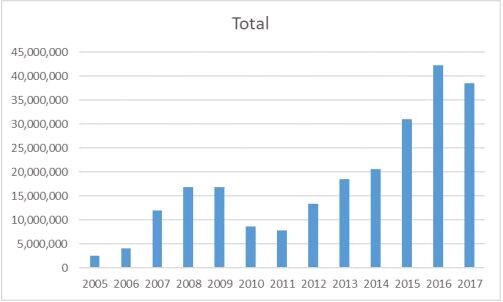 You may notice that the market skyrocketed in 2007. This was caused by speculative demand for .cn domains encouraged by attractive registration fees as low as 30 cents per domain. However, the demand fell off when the Chinese government announced a new rule in 2009 requiring all domain owners to submit personal information and photo identification. This rule especially hurt investors outside China, and many simply let their domains drop. Domain registrar Godaddy even stopped .cn registration in 2010 and did not resume it until early 2016.
The market recovered in 2012 when real demand for .cn and .com propelled the growth. Then, 2015 and 2016 saw another speculative boom with rapid growth of 51% and 36% respectively thanks to new investment themes: Chip (Chinese premium) and long number domains. When speculation died down, however, many investors simply let their domains expire, causing the drop in 2017.
Now, let's look at individual extensions. Starting 2013, the survey provides information about the following extensions.
Obviously, .cn and .com are the major players with market shares of approximately 50% and 30% respectively. Both are considered mainstream extensions in China and have kept their strong position for more than 10 years. Therefore, they are the best candidates for investment, with .com being the king in terms of prices and .cn the queen in terms of quantity. In corporate China, .com is the first choice.
If you invest in .cn domains, be aware that single-dot (second level) .cn domains are the norm, accounting for 80% of all .cn domains. The biggest third level domain category .com.cn (two dots) has only 11%. The global trend, in my opinion, is one-dot domains because of simplicity and consistency for consumers.
.net has grown from a mere 0.2 million in 2005 to 1.3 million in 2017 (ignoring the speculative boom mentioned earlier). .info and .中国 (China) are worth watching as they both broke the 1 million registration mark in 2017. To a lesser extent, .biz has increased as well. For new extensions launched in the last few years, unfortunately, they are still buried under the "Others" category, suggesting that they are not significant enough to be worth separate listing.
The report also contains other information relevant to domain investment. One thing unique to China is that it skipped the PC era and jumped right into mobile phone age. As a result, 98% of the internet users access the internet from their mobile phones. Therefore, if you plan to sell domains to Chinese buyers, make sure your sales landing page is designed for mobile phones. Also, 92% of the internet users use a messaging app such as Wechat as their communication tool. These apps are actively used by Chinese 24/7, so they will enable you to get reply from Chinese buyers much faster than by email which is not that popular in China.
In short, the future of the Chinese domain market is bright and continued growth can be expected. .com remains king as it is favored by corporate China and it commands the highest prices. .Cn is most popular in terms of numbers because of wider choices and lower prices than .com. Finally, the extensions to watch are .info and .中国 (China).
Source from Domain Name Wire
http://www.nicenic.net
ICANN & CNNIC & HKIRC Accredited Registrar
Shared Hosting & Dedicated Server Provider (HK)