US SEC Charges Hollywood actor due to Bitcoin
Views:1253 Time:2020-02-29 23:06:12 Author: NiceNIC.NET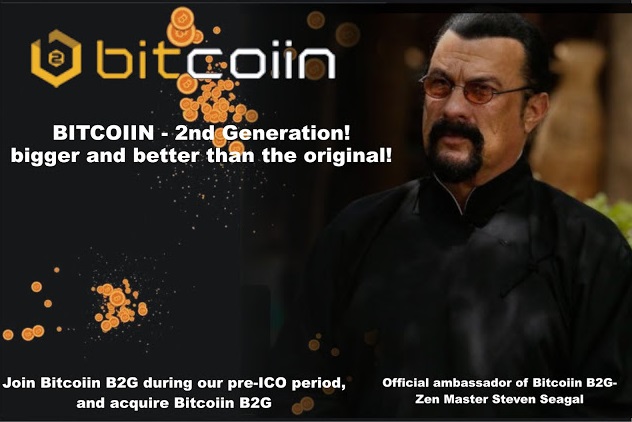 The U.S. Securities and Exchange Commission (SEC) has charged actor Steven Seagal for unlawfully promoting a cryptocurrency investment scheme claiming to be "the next generation of bitcoin." Seagal failed to disclose that he was being compensated in cash and crypto by Bitcoiin2gen, or B2G, for marketing its token offering, such as on Twitter and Facebook.
SEC Charges Stevel Seagal for Unlawful Crypto Promotion
The SEC announced Thursday that it has settled charges against Hollywood actor and producer Steven Seagal over his promotion of a cryptocurrency investment product. The SEC explained that Seagal "touted on social media a security that was being offered and sold in an initial coin offering (ICO) without disclosing that the issuer was paying him for the promotions." The offering was conducted by Bitcoiin2gen, also known as B2G. Noting that the actor violated the Securities Act, the Commission elaborated:
Seagal failed to disclose he was promised $250,000 in cash and $750,000 worth of B2G tokens in exchange for his promotions, which included posts on his public social media accounts encouraging the public not to 'miss out' on Bitcoiin2gen's ICO and a press release titled 'Zen Master Steven Seagal Has Become the Brand Ambassador of Bitcoiin2gen.'
Participants in the ICO invested bitcoin, U.S. dollars, euros, or made payments via credit card in exchange for B2G tokens.
What do you think of the SEC charging Steven Seagal for promoting a cryptocurrency investment scheme without disclosing compensation?
Source from Bitcoin.com, author Kevin Helms
Relevant news:
Domain Registrar NiceNIC.NET accept Bitcoin now:https://nicenic.net/news/messview.php?ID=21095
Domain Registrar NiceNIC.NET accept Tether USD now: https://nicenic.net/news/messview.php?ID=26998