ICANN 46th Meeting NiceNIC will be there
Views:2198 Time:2013-04-03 18:09:13 Author: NiceNIC.NET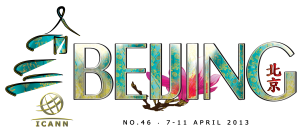 Dear Valued Customer & Partner,
We NiceNIC will be attending ICANN 46th Meeting in Beijing, 7th April - 11th April.
If any customer or partner with NiceNIC go there as well, please feel free to come up and say hello to Helen Ho, NiceNIC's External Relations Manager, when we come across, whatever
in Auditorium, Function Halls or Cocktail parties sponsored by some Registries.
We look forward to meeting up with you in Beijing, China.
Have a safe journey to ICANN!
Kindest regards,
NiceNIC Team
ICANN 46th Meeting Photos:
http://www.flickr.com/photos/icann/
ICANN 46th Meeting Presentations & Transcripts:
http://beijing46.icann.org/beijing46/documents
ICANN 46th Meeting Media Archive:
http://beijing46.icann.org/beijing46/media