Is Clothing.com a good name for a clothing company?
Views:1243 Time:2020-08-26 00:09:04 Author: NiceNIC.NET

I'm not so sure.
Picture of clothing rack with the words Clothing.com
Over the past few days, I've received press releases from Escrow.com and Clothing.com about the upcoming sale of Clothing.com and related domain names.
Escrow.com is playing the role of escrow agent like it did for the successful sale of Fashion.com. The domains are being marketed in a similar way. (The sale price of Fashion.com was not made public.)
Fashion.com is a great domain for many companies. I'm not so sure about Clothing.com. People tend to shop for clothes by brand: the label on the clothes or the brand of the merchant.
I posed this question on Twitter to see if I'm the only one that thinks this: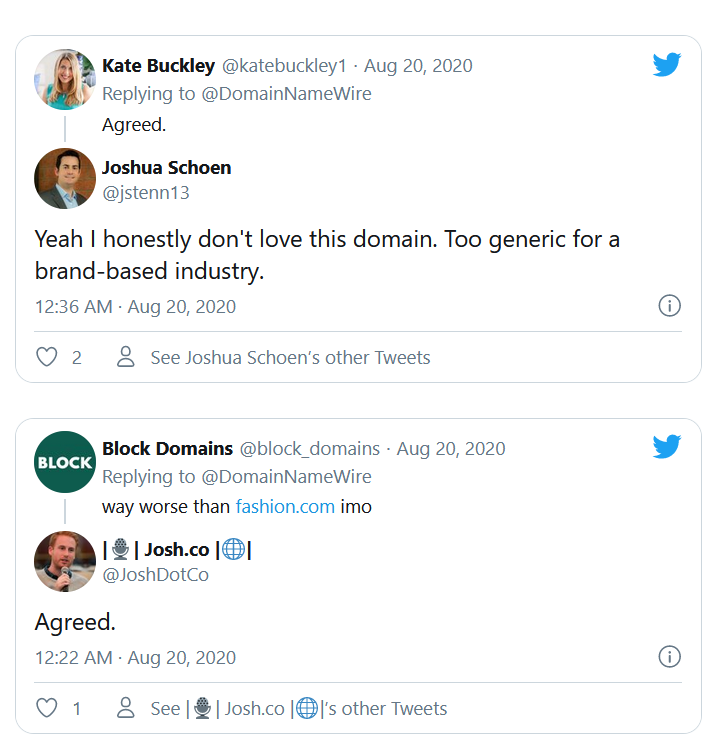 There's no doubt that Clothing.com is a great domain. I'm just not sure about the potential use case for this domain. What do you think?
Source from Domain Name Wire, author ANDREW ALLEMANN
NiceNIC.NET Marketing Team
ICANN & CNNIC & HKIRC Accredited Registrar
Shared Hosting & Dedicated Server Provider (HK)