Recent Drop in Bitcoin Prices might be Temporary
Views:996 Time:2019-09-26 14:20:18 Author: NiceNIC.NET

On September 24, digital currency markets saw significant losses as the entire cryptoconomy lost $35 billion in a short period of time. Cryptocurrency enthusiasts and traders are now even more uncertain to where markets are headed in the short term. The sudden sell-off that took place on Wednesday afternoon was unexpected and today traders are preparing their positions for the next big market move.
September's Crypto Market Shake Out
Wednesday's trading sessions saw some deep losses as the majority of the most popular digital assets have lost 10-25% in the last 24 hours and roughly 15-35% over seven days. When we reported on the market action yesterday, the entire market cap of all 2,000+ coins was around $257 billion. But on September 24, the valuation of all coins combined now stands at roughly $222 billion. Bitcoin core (BTC) saw its biggest losses since the month of June as the price was shaved by $1,000 in less than 30 minutes on Wednesday afternoon. BTC tumbled under $8K for a quick spell and has since jumped back to prices between $8,300-8,500. The cryptocurrency is hovering around $8,461 at press time, showing 12% losses in 24 hours and minus 17.2% for the week.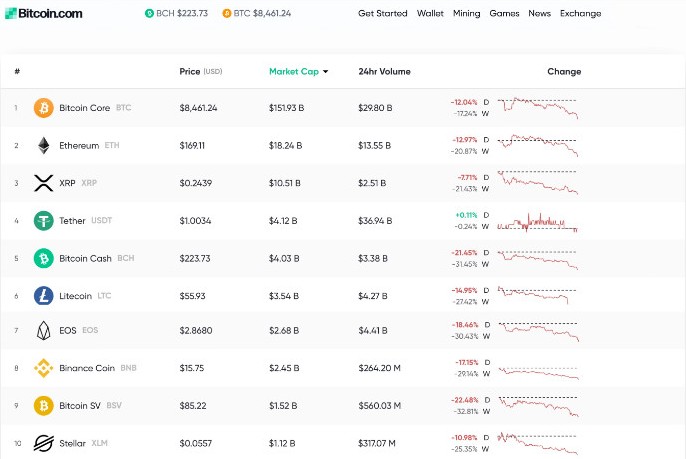 Top ten digital assets on September 25, 2019, at 11:15 a.m. EDT.
There's been some slight recovery on Wednesday but nothing spectacular so far. Most digital assets have found new support zones and traders are waiting for the next move. There are those who believe crypto prices will spike very soon and jump well past the recovery zones by the year's end. However, right now some bearish traders can envision BTC dipping to the $7K zone in the short term and due to the extremely correlated market patterns lately, many other coins will follow suit. For now, all intraday traders can do is hope they've played their positions correctly and look out for sharks aiming to take their lunch. Enthusiasts who are in it for the long haul are simply being patient and waiting for better days.
Source from Bitcoin.com, author Jamie Redman

Relevant news:
Domain Registrar NiceNIC.NET accept Bitcoin now
https://nicenic.net/news/messview.php?ID=21095